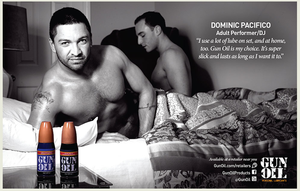 About Gun Oil
Following a return from Kuwait, U.S. Marine platoon leader and founder of GUN OIL recalled soldiers using CLP liquid, that keeps firearms and other weapons clean and firing accurately, as a perfect personal lubricant when relief, better known as masturbation, was necessary to relieve stress. Knowing of CLP's long lasting properties, the founder greatly improved on this concept by changing the ingredients to a hypoallergenic, topically safe, user-friendly formula, ideally suited for heightening sexual pleasure when used for intercourse or personal use.
Working closely with scientists to come up with precisely the right look and feel, this team formulated a selection of unsurpassed GUN OIL products that always deliver a highly satisfying experience and elevate the vital expression of masculine fulfillment.
GUN OIL SILICONE – Our Most Popular Lubricant!
True story...the idea for Gun Oil originated on the battlefield in Kuwait during Desert Storm. How you use it is up to you, but celebrity Jenny McCarthy recently declared on Bravo TV: "Gun Oil is the best for anal."

GUN OIL H2O
The ideal double agent. Gun Oil H2O is the premier purified water-based lubricant that delivers super smooth, long-lasting glide with a wetter, lighter weight feel than silicone. Ideal for your on-going re-entry to target, Gun Oil H2O is safe for all sexual equipment and members of your brigade. Contains added extracts of Aloe Vera and Oat to repair and minimize irritation, and stimulating Ginseng and Guarana extracts that promote blood flow to launch your rocket higher than ever.
         Delivers super smooth, long-lasting glide with a wetter, lighter-weight feel than silicone.
Purified water-based
Aloe Vera and Oat to minimize irritation
Ginseng and Guarana to increase blood flow
---